APPLICATIONS:
TEXTILE
TECHNICAL TEXTILE
COMPOSITE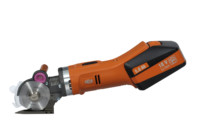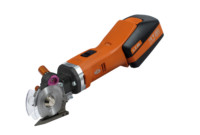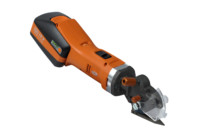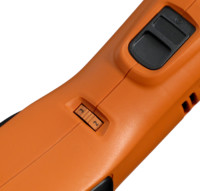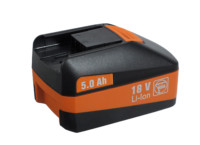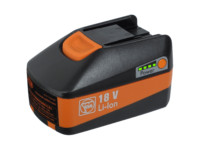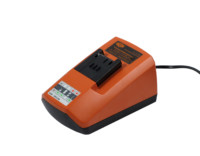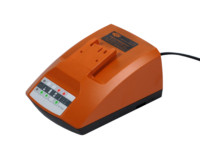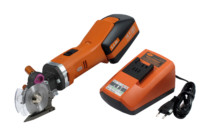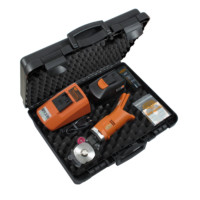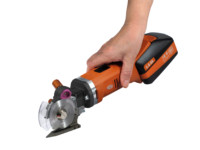 Battery Driven Scissors
Zero702
Zero702 is the first hand-held battery driven cutting tool for professional and stepless production process. It is made as combination of the cutting body of the already approved OPTIMA 702 and the innovative and modern battery driven motor. It weighs only 1900 grams (battery included) and develop a power of 400Watt which combined with a bronze/steel coupling gear develop an impressive cutting power. Zero702 is able to cut any kind of material at the "soft" stage up to a maximum thickness of 18mm. This is why this model is widely applied in textile, technical fabrics or composite material fields. The high torque allows to cut even rubber materials and plastic base materials in the fields of carpets or floorings. The speed of the knife is adjustable electronically from 600 RPM to 1000 RPM in order to be suitable to cut any kind of material. The foot is steel made, strong and miniatured so to allow to trim straight or curved portions very easily and precisely. The push button sharpening stone allows the sharpening of the knife edge to be done in less than 10 seconds without removing the knife. The new rear fixed knife protection is now transparent plastic made to give more visibility during the cut operations. The battery of latest generation is lithium ions technology so to be able to develop 5 Ah. It has an extraordinary life and it is possible to see the charging rate through a LED lamp. Through the standard charger the battery can be re-charged in 45 minutes. All these features make ZERO702 the battery hand-held cutting tool more revolutionary and powerful on the market able to satisfy any need in field of professional cutting tools.
We recommend wearing RASOR® Safety Gloves when using our cutting machines.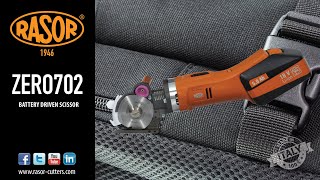 Specifications
| | |
| --- | --- |
| Blade diameter | 70 mm (2.75″), with hard metal counterblade |
| Blade descr. | 70SHSS, 4-edges, HSS steel |
| Blade speed | 600-1000 r.p.m., adjustable |
| Cutting ability | 18 mm (0.7″) |
| Power | 18 V, 400 W |
| Battery | 18 V Li-Ion®, 5.0 Ah rechargable with charge status indicator LED |
| Recharging time | 55 min. (with standard charger) |
| Weight (with battery) | 1900 g |
| Total weight (with packaging) | 4400 g |
| Minimum brightness for working operations | 200 LUX |
| Vibrations at start up | < 2.5 m/sec 2 |
| Temperature range | 0 – 55 C |
| Umidity range | 10 – 95% without condensate |
Safety
Heigh-adjustable trasparent fore blade protection
Fixed trasparent back blade protection
Thermic protection inside the battery