APPLICATIONS:
TEXTILE
TECHNICAL TEXTILE
COMPOSITE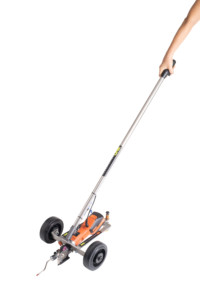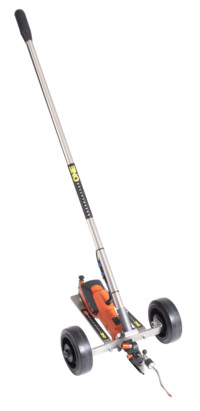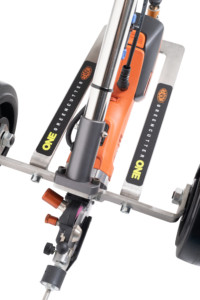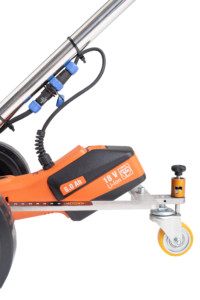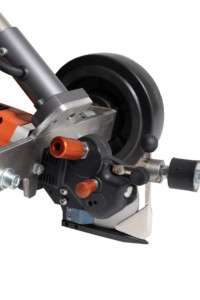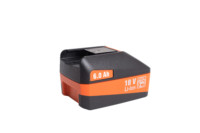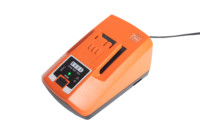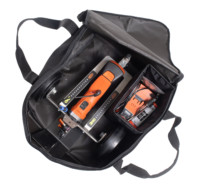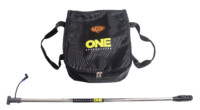 Battery Driven Scissors
ONE
Greencutter ONE is an innovative battery-powered cutting system on cradle. On 3-wheel stainless steel structure is installed a battery-powered cutter with 18V Li-Ion® battery with an extraordinary capacity of 6Ah and a Ø 70 mm cutting knife. The cradle is driven by a stainless steel handle with remote control switch. Rasor ONE can cut material up to 18 mm thick in single or multi-layers, making straight or curved cuts thanks to an extraordinary 400W motor. Perfect for cutting operations on the ground of materials such as carpets, PVC, sports floors and synthetic grass surfaces. The machine is equipped with an electronic knife speed regulator in 6 positions. The half-automatic sharpener device allows the blade to be sharpened in less than 10 seconds without having to disassemble it.
Rasor ONE reduces the time of cutting operations considerably increasing operator comfort. The fast charger allows the battery to be fully charged in 45 minutes.
Rasor ONE is supplied with disassembled handle contained in a bag for easy transportation.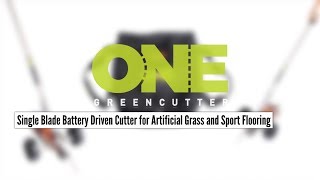 Specifications
| | |
| --- | --- |
| Blade diameter | 70 mm (2.75″), with hard metal counterblade |
| Blade descr. | 70SHSS, 4-edges, HSS steel |
| Blade speed | 600-1000 r.p.m., adjustable |
| Cutting ability | 18 mm (0.7″) |
| Power | 18 V, 400 W |
| Battery | 18 V Li-Ion®, 6.0 Ah rechargable with charge status indicator LED |
| Recharging time | 45 min. |
| Weight (with battery) | 8,5 kg |
| Total weight (with packaging) | 9 kg |
| Minimum brightness for working operations | 200 LUX |
| Vibrations at start up | < 2.5 m/sec 2 |
| Temperature range | 0 – 55 C |
| Umidity range | 10 – 95% without condensate |
INOX structure, demountable
Tubeless tyres
INOX handle with remote control switch
Speed regulator in 6 positions
Safety release starting switch
Electronic over-load fuse
Fast connector machine-trolley
Safety
Starting system by law with open push button
Main ON-OFF switch on the cuttin unit
Electronic fuse for overload protection
Sliding metal protection