APPLICATIONS:
TEXTILE
TECHNICAL TEXTILE
COMPOSITE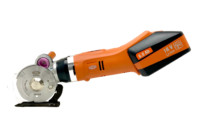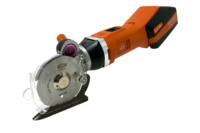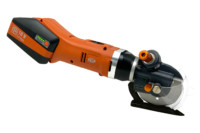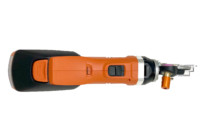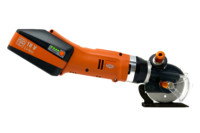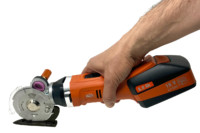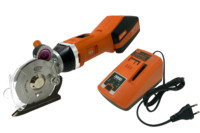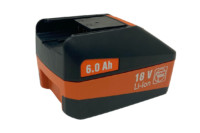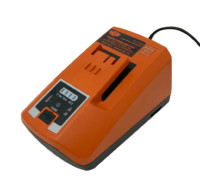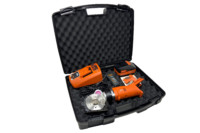 Battery Driven Scissors
FORZA
The new RASOR® battery powered hand cutting machine FORZA is our latest model with exceptional cutting capabilities. As the name implies, the FORZA is an extremely powerful multi-purpose cutter. With a blade diameter of 86mm, 18V motor and 6Ah battery, the FORZA is a real powerhouse. The centrally placed guide foot makes cutting denser, thicker and multi layered materials easier. The reason is that the upper blade is free on BOTH sides and there is less friction between material and cutting blade. The FORZA is equipped with a 400W motor, strong metal gears and adjustable blade speed. All listed features make the FORZA suitable for many of your cutting applications. Industrial textiles, technical textiles, composites, carpet, soft polymers, and many other materials are not a problem for this powerful cutting machine. With a maximum cutting height of 25mm, depending on the material, you will be able to optimize your current manual cutting applications and make them more profitable. A tool less finger protection and a handy sharpening system are also integrated on the cutting head. An extensive range of blades in different versions is available. This way there is always a suitable blade choice for your application. For example, the all-carbide Widia® blade and accompanying diamond-coated sharpening stone make the FORZA an excellent composite cutter. The FORZA is a true FLEXI TOOL and makes the use of a handheld cutting machine more accessible for many applications.
We recommend wearing Rasor Safety Gloves when using our cutting machines.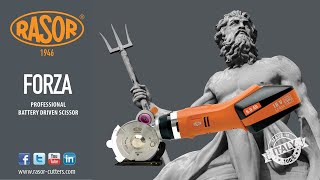 Specifications
| | |
| --- | --- |
| Blade diameter | 86 mm (3.40″), with hard metal counterblade |
| Blade descr. | 86TSHSS, 8-edges, HSS steel |
| Blade speed | 800-1200 r.p.m., adjustable |
| Cutting ability | 22 mm (0.9″) |
| Power | 18 V, 400 W |
| Battery | 18 V Li-Ion®, 6.0Ah rechargable with charge status indicator LED |
| Recharging time | 45 min |
| Weight (with battery) | 2100 g |
| Total weight (with packaging) | 4200 g |
| Minimum brightness for working operations | 200 LUX |
| Vibrations at start up | < 2.5 m/sec 2 |
| Temperature range | 0 – 55 C |
| Umidity range | 10 – 95% without condensate |
Safety
Heigh-adjustable trasparent fore blade protection
Electronic overload protection fuse